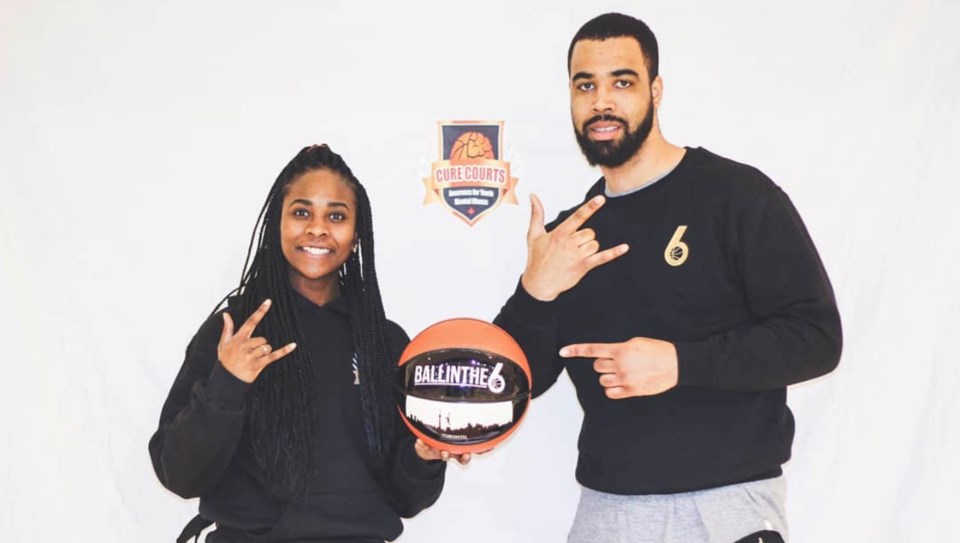 Having one community hub would make a major difference in the lives of minority youth in Barrie, according to officials from a local non-profit.
Shak Edwards, founder and president, and McKeyra Peter, director of operations, for Shak's World, made a pitch to city council this week for financial help to obtain space in Barrie for Shak's World Community Centre, where a multitude of programming and outreach would be based to help local youth navigate the mental-health landscape that comes with being a teenager.
Edwards and Peter say programming specifically for minority youth is much needed and said discussions sparked by Black Lives Matter protests in Barrie back in June have sparked new community partnerships.
"I believe, that with this community growing into becoming more diverse, as well as Barrie having the largest turnout (county-wide) for Black Lives Matter protests in June, these two things show the need for this space," said Edwards. "There is a need that is not being met for marginalized groups.
Shak's World is an organization that focuses on community and the well-being and mental health of youth through basketball.
"It started off as a regular basketball program that brought together the best of Simcoe County to showcase their talent in the GTA (Greater Toronto Area)," said Edwards.
At that time, it was called Elite Academy Basketball.
"During that process, we discovered a lot of our athletes their friends were struggling with mental health, which is what led to us starting Shak's World," she said.
The non-profit participates in an event called Cure Core, which brings together about 90 athletes where teams can win prizes but are also connected with youth mental health experts for a day of education.
"Basically, Shak found a way to use basketball to bridge the gap between youth and mental health and create conversation," said Peter.
Through the group's mentoring programs, Edwards says roughly 10 athletes participate and three coaches, which is an optimal ratio for creating meaningful connections.
Overall, Peter says there is a core group of about 40 athletes Shak's World deals with regularly. Edwards said she has expressions of interest from more than 200 families who want to put their children into the programming Shak's World offers.
"That's one of the reasons we're trying to get this space, so we can create consistency. It can be difficult when moving from one location to another," said Peter. "Considering the uncertainty with back-to-school and COVID-19, having a space where we can control and practise social distancing but still have physical interaction with the youth is extremely important."
The currently vacant 59a Maple Street space has been identified as an ideal space for the program by Edwards, as it already has basketball courts. The space was the former City of Barrie Youth Centre.
Edwards asked council for one year of funding for the space to get expansion of Shak's World programming off the ground.
Once Shak's World obtains its own facility, Edwards plans to have services in the space such as a Canadian Mental Health Association (CMHA) drop-in program, a Junior Police Academy program, Black Youth Night with the Barrie Police, a Junior NBA Program, Scholarly Elite Tutoring Service, Shak's World Basketball Programming and Youth Haven community integration.
Canadian Mental Health Association youth drop-ins are already happening virtually on Wednesday from 4 to 5 p.m., and Edwards would like to transition the program into the new facility.
In order to get to a point that the community centre can pay for itself after that initial year, Edwards said the organization would allow community rentals at the site, offer paid workshops, clinics and camps, as well as apply for grants and community support.
Two of the new programs that are planned to run through Shak's World are collaborations with the Barrie Police Service: a Jr. Police Academy program and a Black Youth Night.
After the Justice for Black Lives protests in Barrie back in June, Deputy Chief Ken Weatherall met with Edwards to see how the groups could work together.
"I think the first conversation was uncomfortable," said Edwards. "I met with Weatherall with a youth and one parent. (Weatherall) was able to get perspective on exactly how the marginalized youth in this community were feeling."
Edwards said stories were shared with Weatherall from multiple children of their experiences being stopped by police after basketball practices or walking home from school in Barrie.
"(The Barrie police) were supportive when the youth shared that they wanted a Black Youth Night. They wanted a space to themselves where they wouldn't feel alienated for something as small as their hair sometimes," she said.
The Junior Police Academy program would connect youth who are interested in policing with local officers, so kids can learn what policing is really like, while the police can learn about the minority youth experience.
"We set that up for youth who want to be police officers, but may not think they can because of today's social climate. That's why we need to bring these two groups together," said Edwards.
"We need to show these youth that they can do anything they want. In today's society it's hard for youth to see themselves in those positions of power because they are not taught they can, in fact, take up space."
COUNCIL 'ROLLERCOASTER'
After an emotionally charged interaction between city councillors this week concerning systemic racism and accusations of creating a toxic work environment, councillors voted to direct staff to meet with Shak's World to find opportunities to support programming, including exploring the possibility of leasing the former City of Barrie Youth Centre at 59a Maple Avenue.
Shak's World is also being asked to provide a business plan during the next general committee meeting on Sept. 14. To read our full story on this week's meeting, click here.
"Monday night was a little bit of a rollercoaster," said Peter. "From what I understand, there may have been some outside interference that interjected its way into our conversation."
"We are happy to still have an opportunity to go before council and put together a full business plan… Our main objective is getting that space and moving forward while working with the city," he added.
"The opportunity was bigger than the situation, and we're just happy to see what comes of it and move forward," said Edwards.
Peters said the presentation and conversation that followed was an example of systemic racism, but not necessarily for the same reasons councillors put forward.
"This was a prime example of systemic racism, not on the entirety of council, but sometimes in the lack of understanding and knowledge of what the programs benefits would be to a specific demographic," said Peter, pointing to parts of the discussion where legitimacy of the organization was questioned.
"It wouldn't have happened if it were a 35-year-old white male or female presenting this type of programming," said Peter. "Sometimes it really just comes down to cultural misunderstanding. That's completely OK."
Peter said he understands why systemic racism being brought up would frustrate councillors because it brought up a conversation that didn't necessarily need to come up in that space at that time, however he hopes the experience will push the city and councillors to be more aware and put a little more effort into an issue that is extremely important to the community.
"Systemic racism is always there. Sometimes, even as Black individuals we don't see or identify it. It's not about demonizing the misunderstanding. It's about, how do we move forward in order to prevent things like that from happening?" he said.
Overall, Edwards and Peter both say that minority-specific programming and spaces are sorely needed in Simcoe County.
Peter grew up in Toronto, and says he remembers starting to deal with anxiety at the age of 17. As he got older, he was also diagnosed with bipolar disorder.
"Particularly in the Black community, it's not something that's typically addressed, although it is starting to be addressed," said Peter. "A space like this would really allow youth to have access to tools so we can really help them to navigate the anxiety that comes with being a teenager."
"There are so many people (of colour) who commute to Toronto for work because they can't find jobs here, but their kids still go to school here. It's important we have this space so everyone has somewhere they can go where they can feel like they're rooted in culture," said Edwards.
Edwards mentions the multitude of recreation centres in the community that currently exist, but points out that none of them are rooted in any marginalized culture.
"It's important for these kids to know their city cares about them," she said.